The day started off rather foggy, and freezing. When I went out to get the breakfast (an apple and a muesli bar), the car was covered by frost.
After a coffee and "breakfast" I hopped in the car, fought with the SatNav, and with the help of Google figured out how to adjust the seat. By this time the windows had defrosted too, so I set off.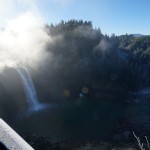 A few miles down the road the fog lifted to gorgeous blue skies. Taking the exit to Black Diamond, where one can apparently get good views of Mt Rainier I saw a sign to Snoqualmie Falls, which I followed despite the increasingly anxious request by the SatNav to do a U-Turn.
I eventually found the Falls, which were amazing. They're about 80 meters high and even now with not much water going over them were pretty impressive. Went for a hike down to the bottom too, but I'll have to come back in the afternoon as the light was all wrong for pictures.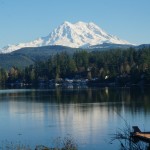 Back on the road I reached Black Diamond and even found the Bakery that someone recommended on the internet, where I ordered a Shrimp Louie (shrimp salad) for lunch. Unfortunately again the light is wrong for Mt Rainier, so I'll have to come back for afternoon tea!
Eventually made it to Mt Rainier, silly GPS took me on a "faster" route which ended up being quite congested, but that didn't matter once I got on the Longmire road. Fantastic drive, will need to come back with a bike someday!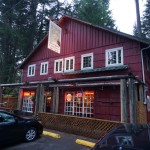 But when I got closer I got a nasty surprise – $20 entrance fee to the National Park, and the road was only open for another 6 miles without snowchains. So muxh for roads being open.. ohwell, turned around and stopped at the Copper Creek Inn for a coffee and their world-famous blackberry pie (which, tbh, was merely ok. The coffee was good though!).
After that it was too late to go past the Falls again – by the time I'd get there it would be dark. So instead I headed back to the Hotel, although taking scenic routes instead of the GPS-favoured highways. Shame half the drive was in the dark.. still, found some really fun roads! I'll have to see if I can get the GPS tracks out of the car..